Yet even now, says the Lord, return to me with all your heart, with fasting, with weeping, and with mourning; rend your hearts and not your clothing. Return to the Lord, your God, for he is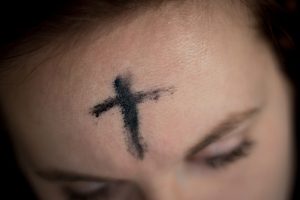 gracious and merciful, slow to anger, and abounding in steadfast love and relents from punishing. Joel 2:12-13 
I dipped my finger into the gritty ash and oil mixture.  One by one they came forward to the altar for the imposition of ashes.  "Isabel, remember that you are dust and to dust, you shall return."  This woman had traveled all over the world, had touched so many lives through teaching, had experienced so much pain in the death of her young husband and 50 years later, buried her son.  As I made the sign of the cross over her wrinkled, wise forehead, I was confronted with the fact that death was imminent.
"Andrea, remember that you are dust…"  The smooth forehead of the fair 4-year old, full of life and energy, contrasted greatly with the woman before her.  Yet the message was the same for both.
We are dust.  On this day we are confronted with the reality of our existence.  We are daily in need of God in our lives whether we are 4 or 94.  Praise God for the gift of new life in Christ that brings us out of dust and into eternal life.
Prayer:  God of all the ages, you are our only hope and salvation.  Accompany us on our Lenten journey, remembering to turn to you each and every day.  Amen.
Deaconess Deborah Matern Graf, Reading, PA